Giffgaff Sim Card 2G/3G/4G,3in1 Standard/Micro/Nano Sim Card With £5 Free Credit - London
Sunday, 11 February 2018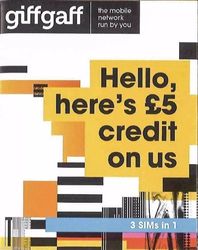 Contacts

James

07706681927
Item description
CUT YOUR MOBILE COSTS and join the friendly GIFFGAFF network

3 in 1 push out SIM suitable for any mobile device - Nano, Micro & Standard

GIFFGAFF runs on the O2 Network - great coverage

Use on any unlocked or O2 device

4G now available as standard

Compatible with all 4G, 3G and 2G networks

You will receive £5 Credit when you activate with £10 or More

ALL CALLS and TEXTS to other Giffgaff Members are COMPLETELY FREE when you buy a goody bag or top up every 3 months

Use on low PAYG rates or buy a ONE MONTH goodybag to get an even better rate

Monthly goody bags start from £5

A £10 goody bag gets you 500 mins, Unlimited texts and 1GB data

Complete flexibility - you can flex up or down each month

Set your account to auto renew if you want the same goody bag each month

Its the BEST and CHEAPEST NETWORK I have found - so simple, flexible and friendly

YOU WILL LOVE GIFFGAFF!!
PAYMENTS CAN BE MADE VIA PAYPAL TO: nitronicsengineering@hotmail.com (or VIA BITCOIN (BTC), BITCOIN CASH (BCH), LITECOIN (LTC), ETHEREUM (ETH) and RIPPLE COIN (XRP). Please message me for more information).

Support: Always here to help - I promise to respond to your message within 24 hours, usually much faster.

Delivery: Most deliveries are sent out the next day by 1st class Royal Mail which usually takes around 1-3 days.
Rarely items take a little longer. If you have any concerns, please contact me and I will resolve quickly for you.