Study in the United Kingdome - London
Friday, 15 June 2018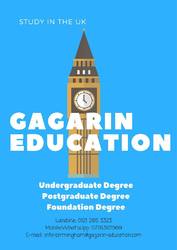 Contacts

Gagarin Education

02031377022
Item description
Gagarin Education offers free assistance with the application process for those interested in studying in the UK. We have a range of partnerships with Universities from London, Birmingham, Manchester and Leeds that you can choose from.
Furthermore, we also offer help to those that want to fund their studies with a Student Loan and a Maintenance Loan
You can contact us to find out more about the programs that we offer and your eligibility.

We are based in Central London and we are open from 10AM to 6PM.