Experienced Master Seeks Willing Submissive - London
Monday, 13 August 2018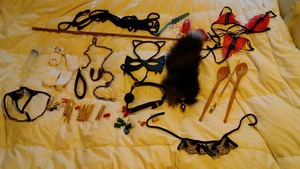 Contacts

Master C
Item description
Hello. Please allow me to introduce myself first of all. I am a tall, athletic, well educated, attractive white North American import, male. I have medium length, curly brown hair, hazel eyes, occasional facial hair, a sarcastic nature, and a reasonable dress sense, without caring too much about it. I am 44 years old, but genuinely look younger. I have even had some insane people say that I am in my late 20s.
I have had a number of experiences in the past with relationships involving discipline, bondage, training, master-slave, etc. I have been described as cruel, mean, and having a cheeky smile while I deal out punishment. I am very skilled with word play, and fully realise how much of a mental game this is. Anticipation, build up, slowly working one's way towards one's goals, this is what makes for an excellent master slave relationship. I enjoy putting a woman in a no win situation, having her forced to choose between two bad choices, or making her talk herself into a situation where more punishment is needed. Mental games are extremely stimulating.
I enjoy using restraints, but also setting a woman the task of restraining herself, showing me that she knows her punishment is necessary and that she is more than willing to undergo it. I enjoy training a woman who is new to the lifestyle, curious, wants to test her own limits, and give herself over to a master who she knows will care for her, keep her on the straight and narrow, and punish her when she transgresses, always caring for her and building trust and fondness. Yes, there will be cruelty and meanness, but you know that this is what you need, what you desire, what will give you the fulfilment you so crave. You must be willing to push past your own limits, to sublimate your desires to those of your master, and to allow your desires to become those of your master. I am a patient master, and you will be filled with pride as you come to do things you never imagined yourself doing, trained by my steady guiding hand towards proper modes of behaviour. Your body will experience pain, your mind will go to new places, you will feel opened up, exposed, and at the end your tears will be kissed away, and you will feel loved and properly trained and treated.
I have trained women in age ranging from 18 to their 40s, but am by no means promiscuous or burdened with hundreds of past sexual partners. I have done this on a handful of occasions, and with people that I genuinely liked and felt something for. I far prefer a longer relationship, one which may or may not turn into a proper relationship, but is at least founded on common interests, fondness, intellectual compatibility, desire, compassion, empathy, etc. This can be a casual relationship, NSA, but it can also turn into something else.

I live in a lovely town near Hemel Hempstead, very close to transportation to London, or further west, along the A41. I have a one-bedroom flat that overlooks the canal. I am a good cook, and love cooking for people, so you will always be well looked after.
I am left wing in my outlook, educated, very interested in politics, science, language, culture, travel, humanism, history, social issues, literature, film, etc.
This is a genuine and serious ad, so please only reply to me if you are genuine and serious, and between the ages of 18-35? I am not concerned about your race or ethnicity. You should be attractive and somewhere from slender to curvy.