Security Company in London - London
Friday, 24 August 2012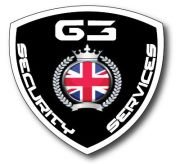 Contacts

Mr. Ikram Ul Rehman

020 3288 0000
Item description
G3 Security Services is a dynamic and innovative company committed to providing highly professional, reliable and cost-effective security guarding services to retail, corporate and healthcare clients as well as to the public sector and industrial organizations.
We have been serving the security/ Services industry since 1992, and take forward all the wealth of experience which has been gained in the industry all these years.
We pride ourselves in providing a full range of Security Management Services and committed to continually improve the contents and quality. Well qualified and experienced professionals are dedicated for the growth and improvement of the security services.
G3 Security Services has the highest standards of integrity and excellence at every level. To us, integrity and professionalism are of the utmost importance. As a firm committed to excellence, we maintain highest industry standards for security officer's training, honour, loyalty and character.