Beautiful fluffy and playfull kittens - London
Sunday, 21 March 2010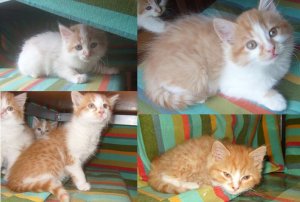 Contacts

usman

07939302868
Item description
We have got 4 kitten 9 weeks old. deflead. Litter trained very playful and fluffy. Eat solid food both dry and wet. Looking for a loving and caring home for my kittens. These kittens are kept indoor so they are Indoor cats. I will be sad to make them go but I already have two cats that's their mother & father

1 boy ginger and white £125
1 girl ginger and white £125
1 girl mostly ginger £125
1 girl mostly white £125

If you get two together we can give two for £200 pounds. Because it will be nice for two to go in new home together so they can have company.