4 Adorable Blue & Black Staffy Puppies Available - London
Friday, 24 April 2020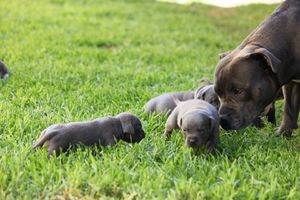 Contacts

michalgray

020 8012 1892
Item description
4 Adorable Blue & Black Staffy Puppies available. They will come kc registered.

Both mum as well as dad are kc registered also health tested both mum and dad has a lovely temperament being brought up with small children.

Fully health tested L2HGA/HC clear, shot, stocky, true to type blue SBT from impeccable bloodline and impressive pedigree that few can match or better, sired by top stud dog, the only blue champion in UK Sandastaff Piro at bullscaff, 41 champions in his pedigree passing 22 champions on to his puppies, standing at 15 inches, perfect bully head, short, stocky, all blue zero brindle zero white, perfect rose ears, perfect scissors bite, black nails, mum is our very own much loved family pet, amazing temperament and loves life, comes with strong bloodline, blue bouncer, Valglo Cassanova at Crossguns, puppies will come with
KC papers.
4 weeks insurance.
1st injection.
Puppy pack.
Vet health check.
Microchip.
Life time of help and support.

Both dogs are head turners (Blue regiment) both parents are of registered with a total of 16 champions in there lineages 9 of which are from the mothers side and 7 of which are from the father's side you are more than welcome to come and view the mother and father prior to the puppies.

Out if the four beautiful puppies two of the puppies are full black while the other two are light blue all over apart from a 2p white patch on there chests.


If you have any other questions please feel free to contact (due the covid-19 FaceTime and WhatsApp can be accommodated)

The price per pup is £1,200 with a £500 deposit thank you for your time.